Funny Cooking Cartoon: "Too Many Cooking Programmes..."
This cooking cartoon, originally for a family member, has been going down well, and it seems timely, as family gatherings abound at this time of year. The picture above was the original idea, and the picture below shows the card it became (as in selling it, I neither want to offend Masterchef and its fans, nor alienate international cartoon lovers, who may well follow other cooking shows.
Phew! All of that for a cooking cartoon. :-). Please enjoy, anyway...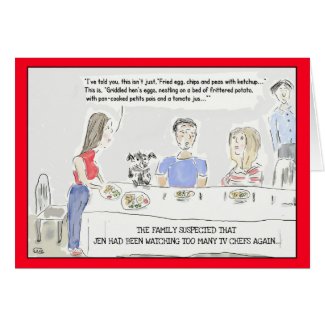 Funny Cooking Cartoon Birthday Greeting Card
by
CartoonsbyClare
PS. After much thought, am returning to cartoons as normal here. If it interests you, my reasoning is in the update
here
. Many thanks!